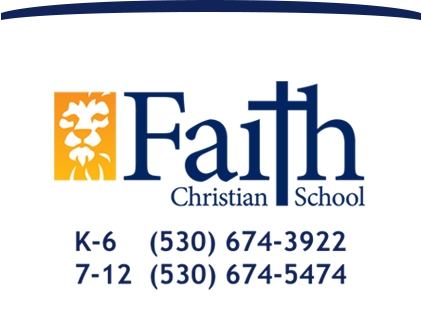 Raising Christian World Changers
Lions' Roar
The current edition of the Lions' Roar:
Click the image to read the current Lions' Roar or see link below.

In this edition: Spirit Week overview for both campuses and Homecoming schedule; Special Announcement: See what NEW AP CLASS will be offered for Fall 2017; Get to know FCS Faculty: Lisa Maki and Collin Hanson and Board Member: Matt Davis; Read feature article: A Servant's Heart

In this edition: see what an action-packed December we have had in ministry outreach, the arts and sports! Play "Guess the Mystery Teacher" and take note of January dates.

In this edition: See highlights from our annual Grandparent's Day on both campuses, 5th grade Colonial Day, and 2nd grade's field trip to UC Davis. "Meet" Henry Herrera and Joy Elliott and learn how you can help them as they lead high schoolers in outreach to homeless people in our community.

In this edition: meet FCS Librarian, Diana Strong, and FCS Players producer and director, Paul DeMeritt. See the upcoming December events and begin your celebration of Christmas with us! Blog news includes 4th grade field trip to the Railroad Museum and Highlights of the Cross Country season. Read the feature article on Leadership and follow how FCS students are becoming leaders at school and in the community.

In this edition: Meet Board Member Nina Maddux, see fall fun from kindergarten through high school, and read the volleyball season summary highlights!

In this edition: meet board member Geoff Harris, two FCS faculty, see news and pictures that occurred since our last edition and read the feature story, "Students of the Word."

Click above to read the first Lions' Roar of the new school year! Topics include: Student Coucil introductions, web tips, teacher and board member bios, announcements, fall sports and more!
The Lions' Roar is a Bi-weekly newsletter that highlights the happenings at Faith Christian School.
Please submit the form to be added to our e-mailing list.