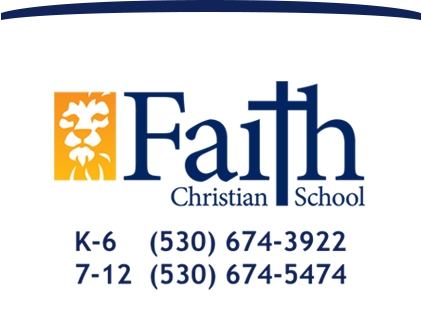 Faith forward. College ready.
Pray for FCS
Prayer Requests: Please join with us is praying for our FCS families and community
"And pray in the Spirit on all occasions with all kinds of prayers and requests. With this in mind, be alert and always keep on praying for all the Lord's people." Ephesians 6:18
Will and Shannon Hannold and family – health and financial needs
Connie Hanson (and Collin) – Connie's recent stroke, recovery, health and financial needs
Ray Wisner and family – health
Michael Reimers and family – health and financial needs
Floyd and Lynn Crist and family – health and financial needs
Lewis Pond – health after recovery from heart attack last year
Hillary Hutchinson – pregnancy and for healthy mom, healthy pregnancy, healthy baby and safe delivery
All of our FCS school board, administrators, faculty, staff, students, families, alumni and all the extended family near and far for healthy, provision, protection, well-being, guidance, direction and every blessing
Our President, nation, our state, our civil authorities, first responders and armed forces and their families, especially those serving overseas and in harm's way
Yuba-Sutter-Colusa-Butte county churches and schools and all the leaders, staffs and families who are a part of those institutions
Yuba-Sutter-Colusa-Butte county families and civic leaders
Those recovering from and impacted by Hurricane Harvey, the Butte County fire and the current heat wave in the west
Our troubled nation and world for peace, blessing and for God's will to be done in all and in every place
---
Moms in Prayer International

Mom, do you worry about your child? His school? His friends?
Experience the joy of replacing your fear with peace by praying with other moms. Join the worldwide prayer movement, Moms in Prayer International, bringing mothers together and seeing God change children and schools through prayer.
Ask God if He is calling you to come away and deepen your prayer life.
Our purpose – our whole reason for existing is…
To pray that our children will receive Jesus as Lord and Savior, then stand boldly in their faith
To pray for teachers and school staff
To pray that teachers, administrative staff, and students would come to faith in Jesus Christ
To provide support and encouragement to moms who carry heavy burdens for their children
To pray that our schools will be directed by biblical values and high moral standards
To be an encouragement and a positive support to our schools
Moms in Prayer Faith Christian Group - All moms, aunts, and grandmothers welcome!
Meeting Tuesdays, 8:30 am - 9:30 am in the Band Room, Secondary Campus
Contact: LaDonna 530-933-5960
(additional meeting time can be arranged, please ask)