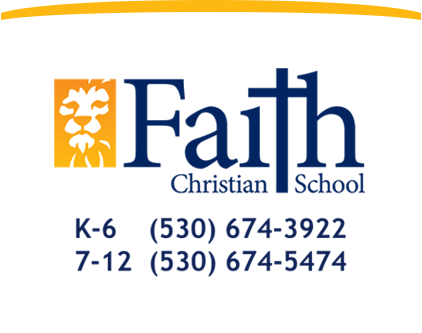 Raising Christian World Changers
COVID-19
Coronavirus Information
October 20, 2020
Dear Parents and Jr./Sr. High School Students,
We continue to have good news about our planned reopening date of Wednesday, October 28! Sutter County has only seven more days to go until the required 14-day period of staying in the red tier, at which time we may return to in-person instruction. We are excited to have our students returning to the classrooms.
In order to ensure a healthy and safe learning environment for students and staff, we need to make some adjustments to the daily routine on campus. Therefore, please read the attached High School Reopening Plan carefully. Encourage your student to read it as well. The High School Reopening Plan is intended to be an addendum to the overall FCS Reopening Plan as posted on our website.
Here is the link to the overall reopening plan: https://www.fcs-k12.org/editoruploads/files/FCS_K-12_Reopening_Plan_-_October.pdf
Other attachments pertain to required paperwork to be submitted to the office, electronically or in person. Finally, I have attached the special schedule for class meeting times for the first week of school, October 28-30; and, the schedule of class meeting times on our new block schedule for every week after.
Some reminders:
This Thursday, Oct. 22 is the last day that distance learning classes will meet via Zoom.
The deadline for achieving fundraising levels for Jog-a-Thon prizes is this Thursday, Oct. 22.
Virtual Chapel will still be done on Friday, Oct. 23.
There will be no Zoom class meetings on Oct. 26 and 27; however, students will still have assignments to complete on these days.
Thank you again for your patience, support, and especially, your prayers.
"Now may the God of hope fill you with all joy and peace in believing, that you may abound in hope by the power of the Holy Spirit." (Rom. 115:13) NKJV
Blessings,
Lance J. Haliday
Jr./Sr. High School Principal