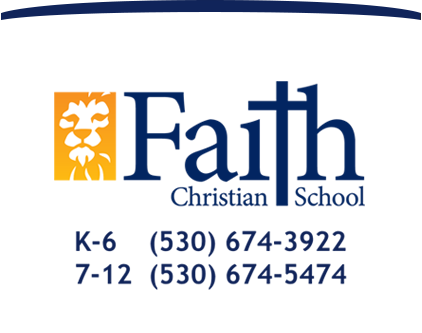 Raising Christian World Changers
News Blog
FCHS Alumni Return to Join Faculty
November 09, 2020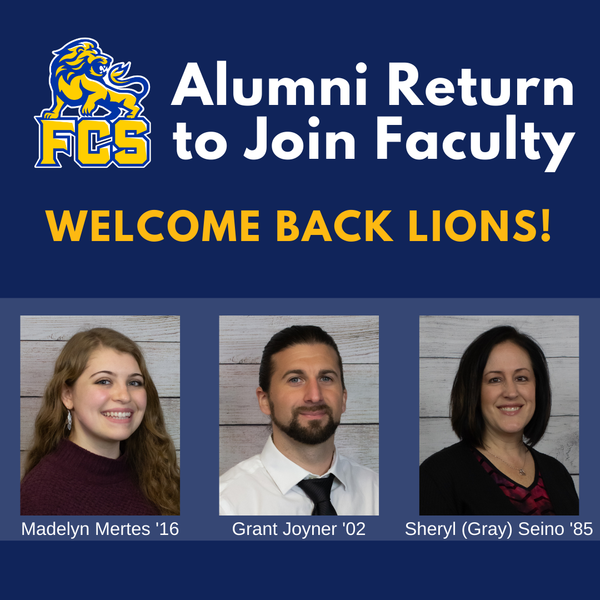 Three graduates of Faith Christian High School have joined our teaching staff this year!
Ms. Madelyn Mertes ('16), a former FCS Player, is fulfilling her dream as the Director of our Drama department and English teacher on our secondary campus. Being an FCS Lion runs in her family - her mother, Debbie (Evans), attended through junior high and her sister, Julia, just graduated from FCHS this past spring. Madelyn attended high school at FCHS and upon graduating, attended Grand Canyon University where she earned her Bachelor of Arts degree in education and a teaching credential.
When not teaching, Madelyn likes to read plays, support local theaters, and spend time with her family and friends. If she could go on vacation anywhere in the world she would visit any Disneyworld Park or travel to Italy or Scotland.
Ms. Mertes shares why she is happy to be back at Faith and what that means to her:
"I love that I can minister to my students though my content areas (Theater and English). I am looking forward to using theater and literature as a way for my students to see the creativity and awesomeness of God's creation. God created us to be creative and imaginative beings, who can share our thoughts, feelings, opinions, and emotions though works of literature and art.

The opportunity for Christian Education is so important to me. It is not common for a student or teacher to be able to openly pray or talk about God in the classroom, so to be able to do that is such a blessing. As a teacher, I have the unique opportunity to help my students gain knowledge in their content areas, but also biblical knowledge. It is so amazing!

I have been ministered to many times throughout my time as a student at FCS, but it continues to this day (as a faculty member). I feel constantly supported, encouraged, and inspired by the spiritual walks that my co-workers have with God. They have already helped me further build my Faith."
Mr. Grant Joyner ('02), who was once running up and down our soccer field, now leads the drills as our new Athletic Director. Both he and his sister Katie ('96) attended Faith Christian K-12, all 13 years! After graduating, Grant attended Yuba College where he participated in soccer, cross-country, tennis, track, and football. He then transferred to Chico State where he received a Bachelor of Science degree in Business Administration.
Mr. Joyner applied his love of staying active and healthy while he worked at the Yuba City Racquet and Health Club and his business degree in the area of retail. Grant worked as the N-Gage (Nokia's mobile video game platform) community administrator and moderator for their online community.
When not teaching, Grant likes to spend time with his wife Alyssa and their 3 year old daughter, Everly Hope. Everly loves outdoor adventures to collect nature things like sticks, rocks, or leaves. He also likes to work out and play video games.
Grant shares why he is glad to be back at Faith Christian and what he is looking forward to:
"I am looking forward to being back in a Christian environment each day and seeing God work through the students. Additionally, I love challenges. This school year will provide plenty of challenges in dealing with this unprecedented situation.

I am glad to be on the FCS team to share my positive experience I had as a student with another generation. I grew up going to Faith Christian and it greatly impacted my upbringing positively by putting Christ at the center of my everyday interactions. I remember with great fondness going to chapel, playing sports, interacting with other students and teachers. I am excited to be back!"
Mrs. Sheryl Seino (Gray '85), an FCS mom, is loving ministering to the students as our Fourth Grade Teacher. She has also served our school in the past as a substitute teacher, instructional aide, and shared her vocal performance talents in the 2017 FCS Players' production of Quilters and Rally in the Lion's Den Shows.
Sheryl graduated from Bethany College with a Bachelor's degree in Christian Education and is a licensed minister with the Assemblies of God. She worked as an administrative assistant to multiple pastors for 18 years at Calvary Christian Center where she also attends and serves on the worship team and in musical productions.
Mrs. Seino and her husband June, have a son, Addison and a daughter, Elisa, both of whom attend FCS. Her mom, Lynn Gray, worked in the FCS development office while she and her brother, Daryn, were attending FCS. Her office was what is now the teacher workroom on the elementary campus.
Sheryl shares why she loves teaching at Faith Christian:
"I love getting to incorporate Jesus in everything that we can teach, in the classroom and outside the classroom. It is such a privilege to be able to minister to kids on a daily basis and walk them through how Jesus can be so much a part of their lives. It's amazing to watch them ask questions and light up as they learn things.

At this time in our country's history, it's a privilege to be able to participate in the ministry of Faith Christian School. I've had the unique privilege of being a student, a parent, and now a member of the faculty. I am constantly blessed and amazed at the heart for kids and families that beats within leadership, administration, faculty and staff.

The education of this generation is crucial to the future of our country. Yes, they need all of those basics that they can get wherever they go to school. What they get here, with God's truth woven carefully throughout, will hopefully set this generation on a course to lead them closer to the Biblical principles on which our nation was founded. That I get to be a part of this process is an awesome responsibility and is humbling. I'm thankful that this school is so covered by the prayers of the leadership, the families, and our local church community."