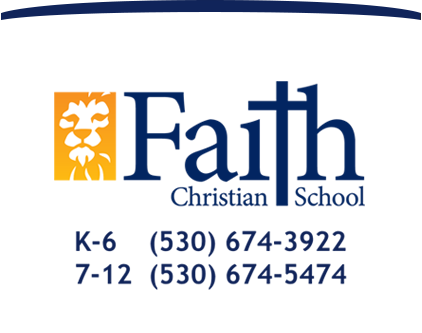 Raising Christian World Changers
News Blog
FCS Players Welcome Holiday Season with Festive Favorite!
November 04, 2016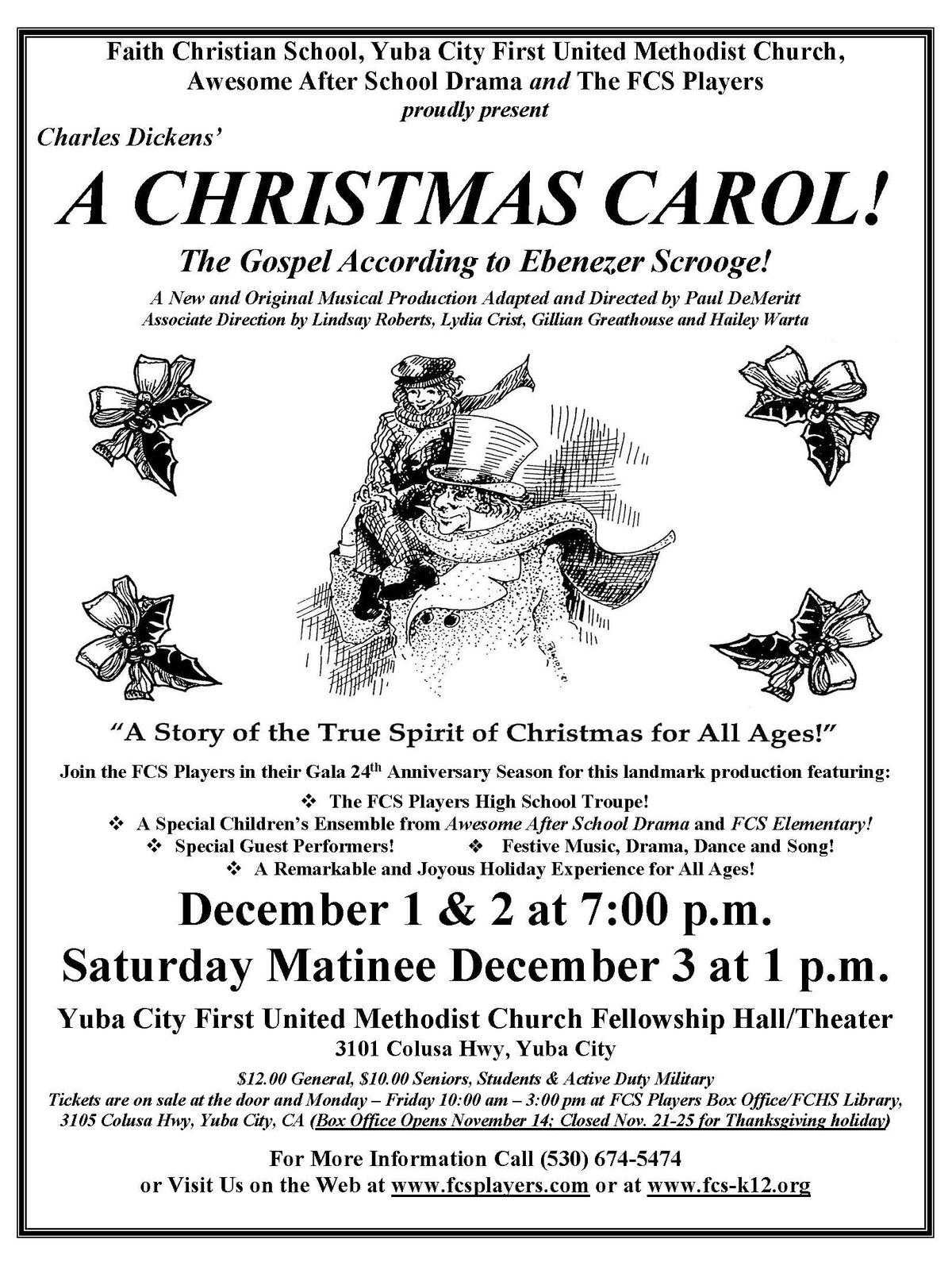 The FCS Players, Faith Christian High School's award-winning theatre program presents the world's favorite Christmas classic, Charles Dickens' A Christmas Carol! in three performances only:
Thursday and Friday December 1 and 2 at 7:00 p.m. and a Special Saturday Matinee December 3 at 1:00 p.m. at Yuba City First United Methodist Church, 3101 Colusa Hwy, Yuba City
Originally adapted by FCS Players founder and producer Paul DeMeritt, this joyous new musical production is a faithful recreation of the original, yet offers many unique twists and turns that promise a festive holiday experience for the entire family – and will be a wonderful way for families to kick off the holiday season and to experience the true spirit of Christmas!
Joining the FCS Players high school troupe (see cast list below) in this exciting new musical version will be a troupe of talented young actors and actresses ages 6-16 from the Awesome After School Drama Program produced by Paul and Anne DeMeritt, Lindsay Roberts, Yuba City First United Methodist Church and including students from Faith Christian Elementary School and other area schools, rounding out the cast and crew to over 50 Yuba-Sutter youth and young adults! Joyous music and dance will highlight this unique retelling of the story of "The Gospel According to Ebenezer Scrooge," featuring many of your favorite Christmas carols along with plenty of audience interaction, fun and joyful excitement for all ages!
DeMeritt promises a thrilling and entertaining evening for young and old alike as A Christmas Carol includes magic, music, singing, dancing, and holiday mirth - plus all your Dickens favorites: Bob Cratchit and his family, Mr. And Mrs. Fezziwig, Tiny Tim, and of course, the world's most famous curmudgeon, Ebenezer Scrooge!
All in all A Christmas Carol promises to be another magical evening from a young people's theatre company that has received regional acclaim for its highly professional productions and will be a great continuation of the FCS Players Gala 24th Season!
Tickets are $12.00 general and $10.00 for students, seniors and active duty military. Tickets are on sale at the door and Monday – Friday 10:00 am – 3:00 pm at FCS Players Box Office/FCHS Library, 3105 Colusa Hwy, Yuba City, CA (Box Office Opens November 14; Closed Nov. 21 -25 for Thanksgiving holiday)
For more information please call the FCS Players at (530) 674-5474 or visit us on the Web at www.fcsplayers.com or www.fcs-k12.org; and as Tiny Tim aptly observed, "God bless us…everyone!!!"
---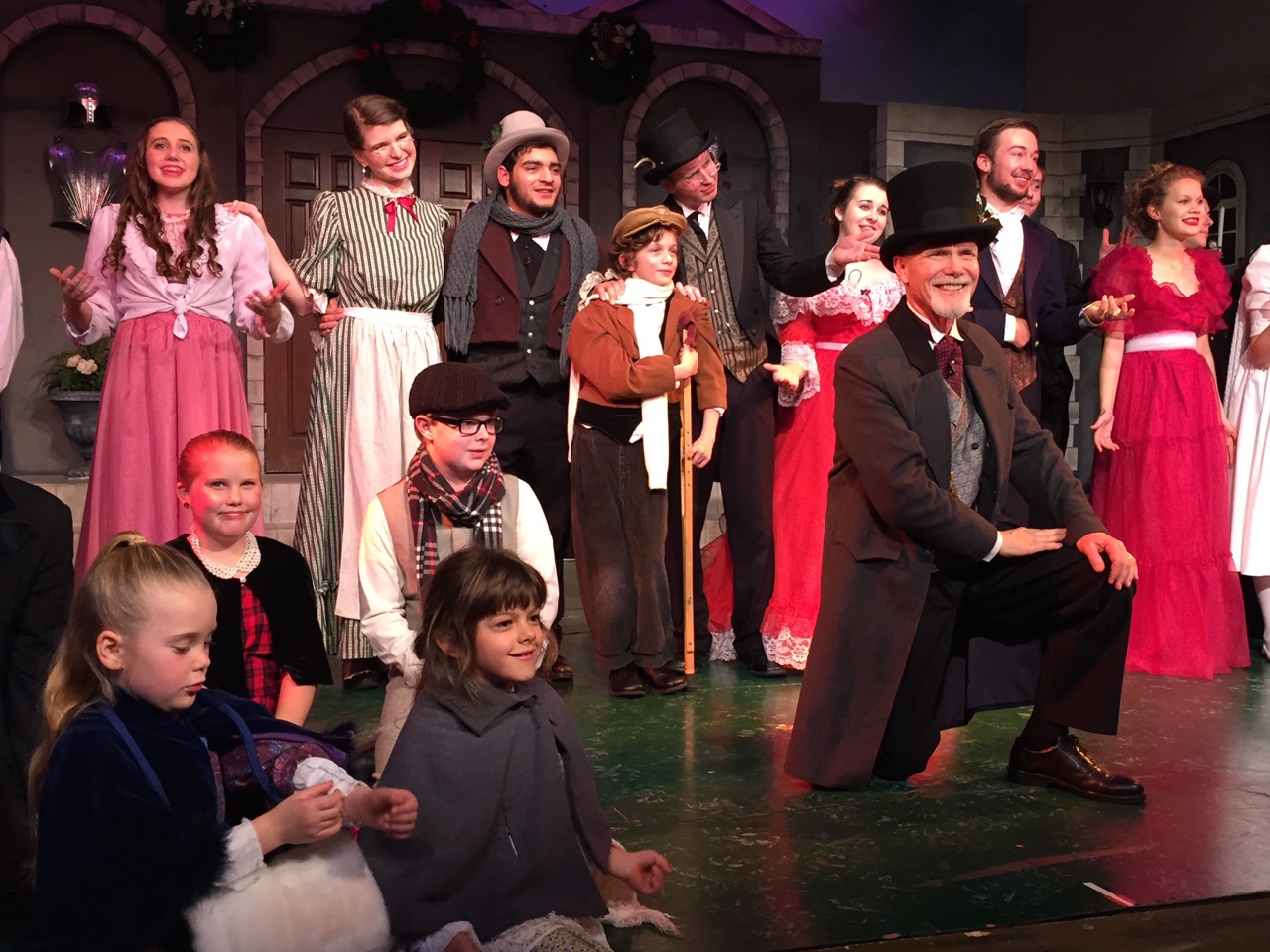 A Christmas Carol Cast List
Mr. Charles Dickens – Paul DeMeritt
Ebenezer Scrooge – Roah McCloud
Jacob Marley, a Ghost – Kieran Rutkosky
The Cratchit Family:
Bob Cratchit – Andrew Tonn
Mrs. Cratchit – Lydia Crist
Peter Cratchit, their son – Kieran Rutkosky
Martha Cratchit, their daughter – Rachelle Calabrese
Belinda Cratchit, their daughter – Anna Davis
Betty Cratchit, their daughter – Kylie Knoop
Bob Cratchit, Jr. – their son – Alec Oakley
Tiny Tim, their son – Alvin Chibaya
The Fezziwig Family and their Friends:
Mr. Fezziwig – David Wickline
Mrs. Fezziwig – Olivia Allen
Fanetta Fezziwig, her daughter – Bridget Coggins
Fanella Fezziwig, her other daughter – Kaylin Murray
Dick Wilkins – Kieran Rutkosky
Young Ebenezer Scrooge – Alec Reische
Belle, Young Scrooge's fiance – Brenna Campbell
Fred Hollywell, Scrooge's Nephew and Friends:
Fred Hollywell– Luke Poppinga
Lily Hollywell, Fred's wife – Rachel Garbutt
Lily's Friends: Miss Abigail – Brianna Brennan
Miss Anne – Kierstyn Snow
Miss Winnifred – Tess Scott
Mr. Topper – Kieran Rutkosky
Special Guests and Folk of London:
Tess, a Child of the Streets of London – Olivia Dodd
Vision of Christmas Past – Hailey Warta
Vision of Christmas Present – Gillian Greathouse
The Vision of Christmas Yet-to-Come – Nathan Silva
Jane, a Mission Worker – Tess Scott
Judith, a Mission Worker – Anna Davis
The 1st Mourner – Bridget Coggins
The 2nd Mourner – Kaylin Murray
The 3rd Mourner – Kierstyn Snow
The Undertaker – David Wickline
The Charwoman – Hailey Warta
The Laundress – Olivia Allen
The Children of London – The Awesome After School Drama Team