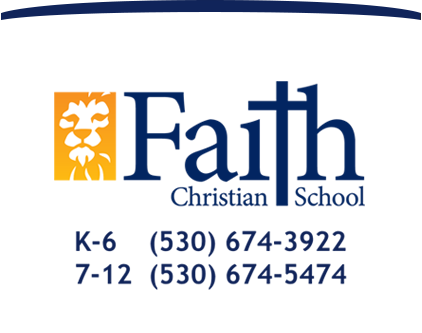 Raising Christian World Changers
News Blog
Grades 7-12 United in Ministry
December 13, 2016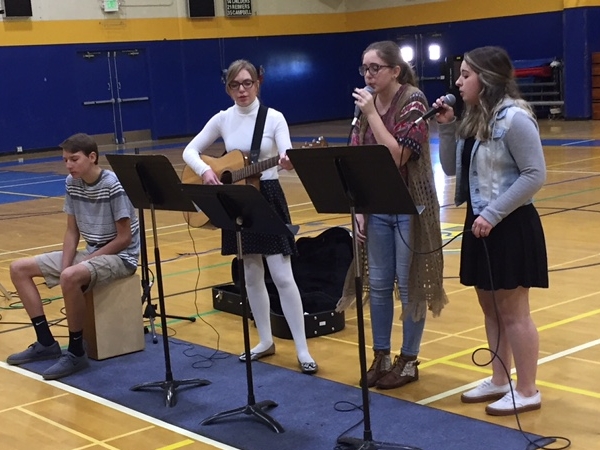 In December our secondary campus unity groups each chose a way to serve and minister to others to put into action our spiritual focus this year of, Find a need - fill a need - He's all we need.
At the core of our Christian character education is the mission that our students learn to be servants to others. "The unity group ministry day is a great way to instill that value in our kids," Principal, Steve Finlay notes. "Several of the students commented on what a positive experience they had as they 'gave back' in various ways. One student, after giving a gift card to a fast-food franchise to a homeless person later remarked with a smile on his face, 'That felt so good!' His comment summed up the experience of many."
Unity Group Ministry Projects Completed: (Read below to learn more about unity groups)
Henry Herrera and Keith Todd's groups went together to visit at a care home. This all-boy group even sang for the residents!
Linda Savage traveled with her group of junior high girls to a food bank and sorted and packaged food.
John McNeely led his group of guys into the local neighborhood and picked up trash.
Scott Bicknell and his group went out and witnessed to people.
Brandi Pond and her group of girls created a "Christmas Tree" made up of papers with brief positive comments about every student and teacher on campus.
Rob Rerucha enlisted his group of junior high boys to help spruce up the campus by picking up trash and pulling weeds.
Shannon Hannold and Joy Elliott made Christmas cards and assembled packs of supplies for the homeless with their groups.
Hillary Hutchinson and her group of junior high girls wrote encouraging notes to high school girls and posted them on their lockers
Rick Daugherty drove with his group of boys around Yuba City and Ellis Lake in Marysville passing out fast food gift cards to the homeless. Students said it made them feel good inside and are excited about doing it again!
Lisa Maki's unity group used the time to plan a fund-raising dinner and auction to benefit the neighbor of one of the girls who had major surgery. The dinner, held on Saturday, Dec. 10, helped to raise $300 to help the family with medical bills. Lisa Maki writes, "The evening was filled with blessings in all shapes and sizes. The students baked goodies and made crafts for auction. The man's daughter shared their family's journey through his disease and continuing recovery. Throughout the event, the guests visited, won door prizes, played a Christmas trivia game, and enjoyed great food. It was evident to all that the family was humbled by the outpouring of love from their community, especially because most who attended had never met them before."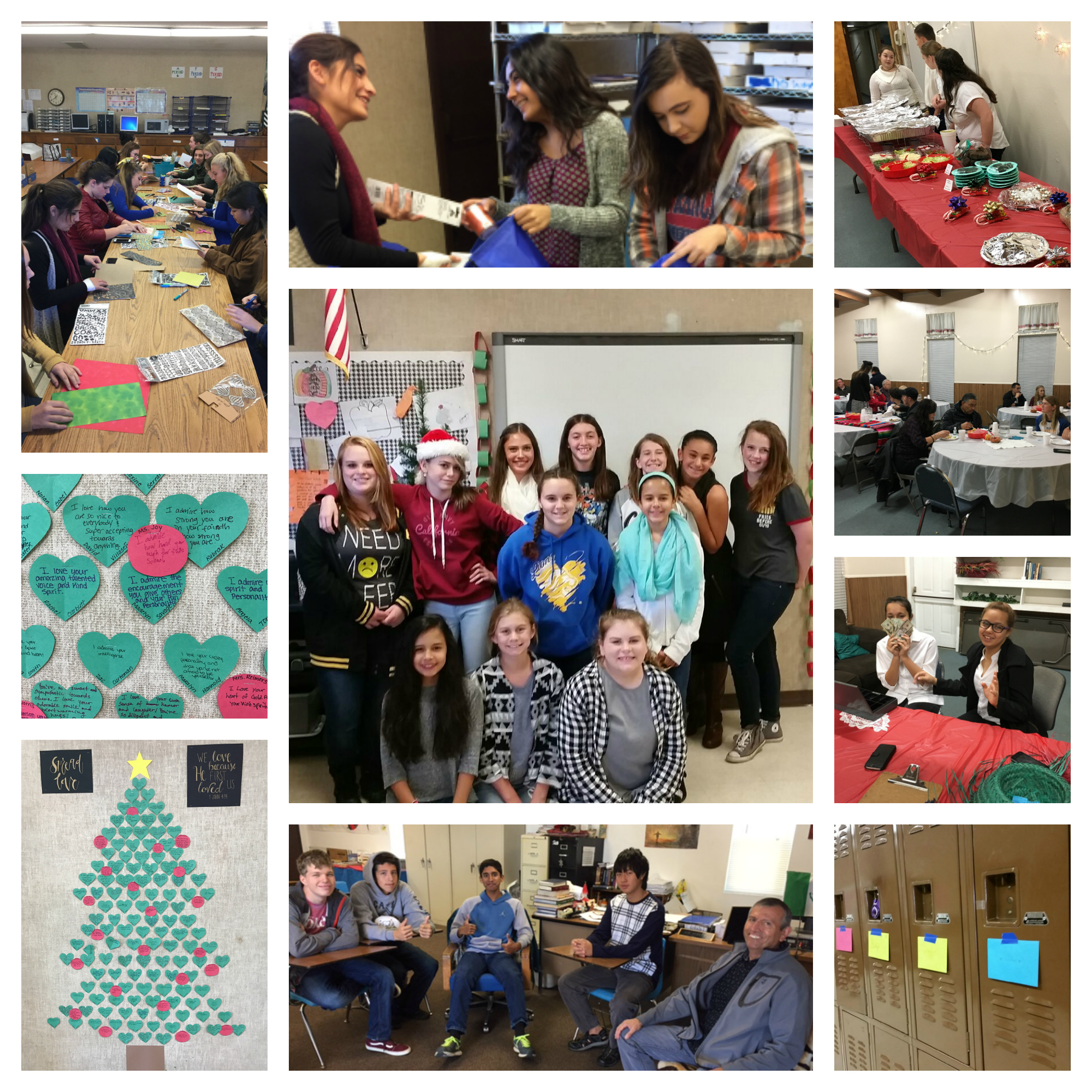 What are unity groups? "Unity groups are small groups that allow students to meet in a more relational setting. Each group has an adult facilitator, and school-wide themes are discussed, with Mr. Daugherty, our chaplain, giving guideline Scripture and talking points. The students meet together for worship, and afterwards go to their unity groups around the campus." - Steve Finlay
Why does Faith Christian have unity groups? "The Unity Groups are a time for students to be more active in the chapel ministry. It is a time for them to ask questions, give their perspective and opinions. More importantly it is a time for them to be personally encouraged by others in their small groups. It is also a time for the groups to work together to be ministers, not just receivers of ministry." - Rick Daugherty, FCS Chaplain
The unity groups were originally an idea of the students requesting a time in which they could meet in small groups. The teachers work together to organize the unity groups which meet on the first Friday of each month. This inaugural unity group ministry day yielded many positive results and we will hold another time like this in the Spring semester. As to what's next?...We're excited to see how our students will find a need and fill it with God's power and for His glory!