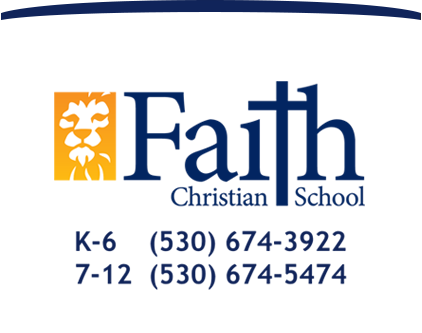 Raising Christian World Changers
News Blog
Local Student-led Teams Square Off at VEX Robotics Competition 3/18
March 14, 2017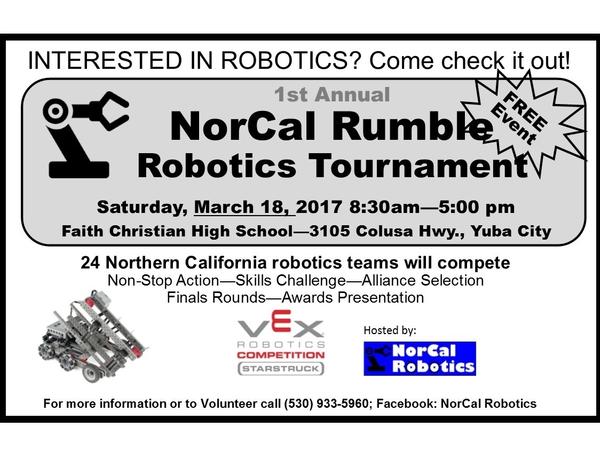 Middle and high school students from Yuba City and all over Northern California will descend upon Faith Christian High School on Saturday, March 18 for the 1st Annual NorCal Rumble VEX Robotics Competition.
Twenty-four teams will come together for a non-stop, action-packed day of competition where they will battle against each other with robots created from VEX EDR. Participants will square off in the game VEX Robotics Competition Starstruck, which is played by scoring stars and cubes in scoring zones and by hanging robots in a designated hanging bar. VEX Robotics Competition Starstruck was developed by VEX Robotics, Inc. and the Robotics Education & Competition (REC) Foundation, leaders in educational and competitive robotics.
The 1st Annual NorCal Rumble VEX Robotics Competition is one in a series of tournaments supported by the REC Foundation and various national, regional and local sponsors. The competition season culminates each spring, with the top performing teams from local and state VEX Robotics Competitions competing against each other at the VEX Robotics World Championship. At the VEX Robotics World Championship, these exemplary teams will have the opportunity to challenge their top-ranked peers from over 30 countries around the world, including Brazil, Canada, China, Colombia, India, Japan, Malaysia, Mexico, New Zealand, Puerto Rico, Saudi Arabia, Singapore, Spain, United Kingdom and the United States of America.
Clubs: NorCal Robotics, Yuba City; Mira Loma High School, Sacramento; Ponderosa High School, Single Springs; Natomas High School; Next Generation Science & Technology Group, El Dorado Hills; Sierra Academy Robotics, Grass Valley; Bull Robotics, Folsom; Pirate Robotics, Wheatland High School; The Three Amigas, Anderson Union High School; Redwood Ravens, Redwood Academy of Ukiah
1:1 interviews with students, event organizers and local sponsors will be available throughout the competition. Photos of student-built VEX robots and teams interacting with their custom robots will be available upon request.
WHERE: Faith Christian High School, 3105 Colusa Hwy, Yuba City, CA
WHEN: Saturday, March 18:
8:00 a.m. – 3:00 p.m. – Opening Ceremony / Qualifying Rounds / Skills Challenges
3:00 p.m. to 5:00 p.m. – Finals / Awards Ceremony
CONTACT: LaDonna Curteman, 530-933-5960
norcalroboticsclub@gmail.com
Upcoming fundrasier for the Robotics Club: