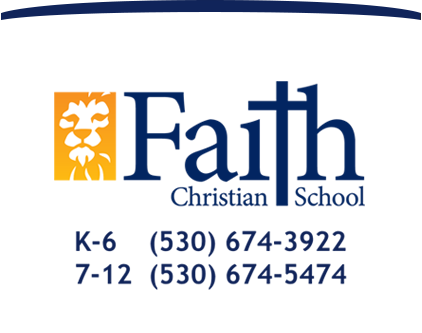 Raising Christian World Changers
News Blog
Junior High Graduation 2017
June 09, 2017
On Saturday, June 3, 2017, family and friends gathered at the First United Methodist Church of Yuba City sanctuary to honor and celebrate our Faith Christian 8th Grade graduates.
The event was streamed live through our FCS YouTube channel and is available to be enjoyed for years to come.
The slideshow of pictures that began the graduation ceremony has been added to our YouTube channel as well.
The following awards were presented during the ceremony:
Alumni Parent Recognition
Colby Brown (Tiffany Brown '02)
Eli Carlos (Tony Carlos '94)
Abigail Kennedy (Jennifer Reynolds Kennedy '97)
K-8 recognition
John Bicknell
Colby Brown
Eli Carlos
Emma Cook
Abigail Kennedy
Kyla Rood
Zoe Swann
David Villasenor
Daniel Wickline
California Junior Scholastic Federation
Kaitlyn Friemark
Emme Hurn
Zoe Swann
Benjamin Tonn
Daniel Wickline
Departmental Awards
Art: Travis Meyer
Boys' Athletics/PE: John Bicknell
Girls' Athletics/PE: Emma Cook
Bible: Kaitlyn Friemark
Computer Studies: Michael Cayaba
Drama: Zoe Swann
English: Trinity Head
History: Charles Robinson
Mathematics: Zac Steele
Music: Daniel Wickline
Science: Benjamin Tonn
Christian Character Awards
Benjamin Tonn and Kaitlyn Friemark