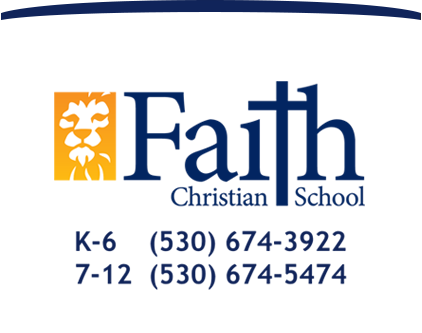 Raising Christian World Changers
News Blog
2018 Senior Project Presentations
May 11, 2018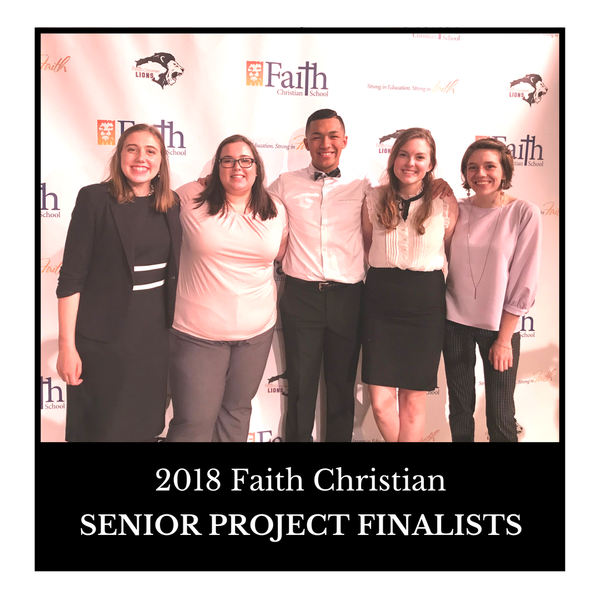 On Monday, May 7, 2018 five Faith Christian High School senior project finalists presented topics of their choice to a panel of adjudicators, family, friends and the community. The personal insight each student brought to their topic, bolstered by months of research resulted in powerful presentations.
The FCHS Senior Project is a requirement for graduation and consists of months of researching and writing an 8-12 page position paper and oral presentation on any topic of interest to the student, on which the student takes a strong position using logic and persuasive argument. A full examination includes a Biblical worldview as outlined in scripture and the doctrine of Christian denominations.
Paul DeMeritt, Senior English instructor and Senior Project Co-coordinator at Faith Christian explains: "I love the Senior Project requirement; and while I know most of the kids wouldn't say they love it, I know they see its value as part of our curriculum. Our kids invariably come back from their freshman year at college with glowing testimonies of how the Senior Project truly prepared them to excel at the college and university level - and in business, career and ministry as well!"
Our five finalists this year truly showed that they are well prepared for continuing higher education and we have no doubt that they will continue to champion their selected causes and bring further awareness to their topics. Below is a recording of each presentation which are available on our FCS YouTube channel.
Thank you to our panel of adjudicators:
Mr. Royce Dunn – Yuba-Sutter Educator/Pro-Life leader and advocate
Ms. Sherri Hurn - FCS 9th grade parent/educator/FCS Board member
Pastor Pat McConville - Student Ministries Pastor of Calvary Christian Center, Yuba City
Officer Jason Stewart – FCS Alumnus and California Highway Patrol Officer
Mr. Dan Wickline - FCS faculty member and FCS parent
First Place: Gillian Greathouse - Blue Lives Matter
Second Place: Lydia Crist – Veteran Suicide Prevention: Fighting the Battle Within the Mind
Third Place: Makalyn Hannold – ADD/ADHD – A National Crisis
Honorable Mention:
Brenna Briscoe – Sexual Assault: The Silent Epidemic
Zachary Rodriguez - The Use and Abuse of Alcohol