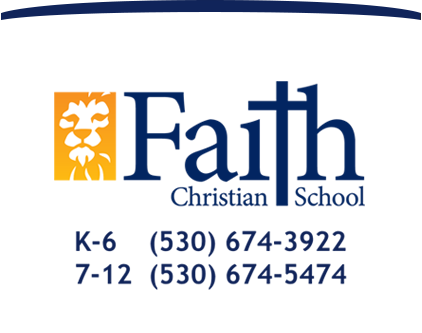 Raising Christian World Changers
News
FCS School Closure Announcement
March 16, 2020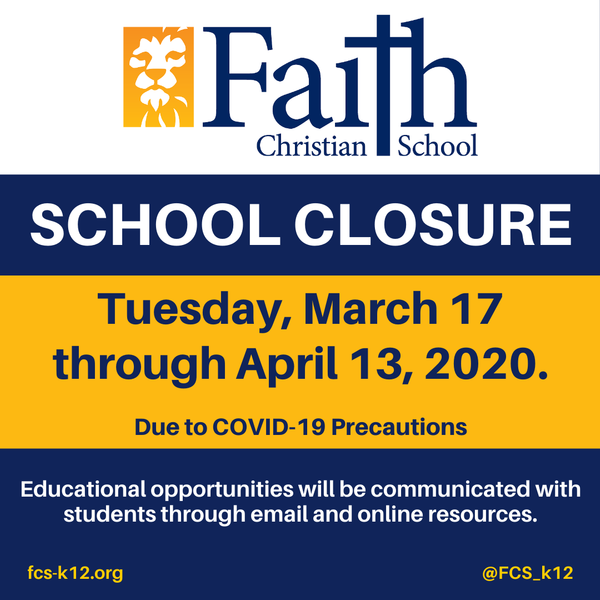 Faith Christian School Closure Due to COVID-19 Precautions
After much prayer and consultation, and in light of public health guidelines issued by Gov. Gavin Newsom, Faith Christian School will close beginning Tuesday, March 17. School will remain closed at least through April 13, which is after Easter break, April 6-13.
We are committed to providing educational support for students during this closure period. Our faculty will spend time this week in lesson preparation and training in order to provide the best learning experience as possible for your child during our school closure. Assignments will be made available on a weekly basis beginning Monday, March 23. Specific information on the educational opportunities will be communicated by faculty through email or other online resources.
Students at school today will be asked to take home their textbooks and materials as directed by their teachers to keep up with necessary classwork during the closure. Families of students not in attendance today may make arrangements to pick up textbooks and materials after school today or make other arrangements through the office.
Please remember to follow all procedures recommended by the Department of Public Health and the CDC to safeguard your health and that of your family.
We will plan to update school families on a weekly basis and we will plan for classes to resume as soon as we receive word from our public health authorities that it is safe to do so.
Let's continue in prayer for our current challenges and remember that God is in control.
"He who dwells in the secret place of the Most High shall abide under the shadow of the Almighty. I will say of the Lord, "He is my refuge and my fortress; My God, in Him I will trust." Psalm 91:1-2
Bill Hannold
Superintendent/Elementary Principal
530.674.3922