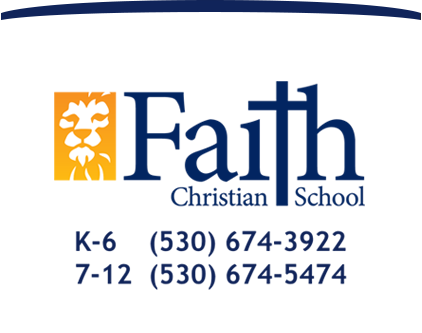 Raising Christian World Changers
Give
Why should I give to FCS?
Faith Christian School does not receive state or federal funding which allows the freedoms of Bible-based curriculum and intentional Christian focus, but causes the need for tuition, fundraising, and gifts from donors.
Faith Christian School is a 501(c)(3) nonprofit organization, and all donations given to FCS are eligible for a tax deduction.
Current tuition and fee levels cover only 85% of our school operating costs.

Without the fundraising revenue and generous gifts from donors our tuition costs would increase. Also, much of our fundraising dollars provide Tuition Assistance for students who would otherwise not be able to attend. It is our desire that money would not stand in the way of a student receiving a quality Christian education. All school families benefit from the revenue our fundraising activities generate and we are thankful for your supportive efforts.
Giving to FCS is investing in the lives of our students now, in their future, and for eternity!
More important than the excellent academic learning and life skills that are taught, is the Christian character that is intentionally modeled and developed. Biblical charater traits grow as students study the Word in every subject, pray daily, worship together in chapel, and are encouraged by their teachers and friends to have a personal relationship with Jesus Christ. Our students are challenged and equipped to love God and love others through life-long service to impact the world for His glory!
Giving to Bridge the Gap between our current projected tuiton and fundraising income and our expenses is the most helpful way you can support the ministry of Faith Christian School at this time.

We thank you for supporting our ministry and partnering with us to train the next generation of Christian leaders!