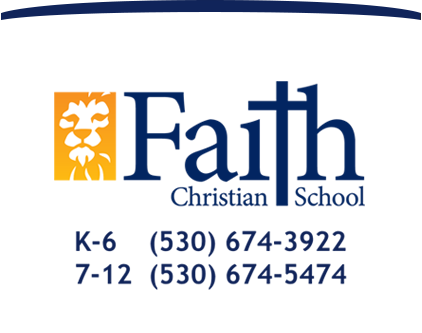 Raising Christian World Changers
School Profile
Bill Hannold - Superintendent / Elementary Principal
Lance Haliday - Secondary Principal
Secondary Campus (Grades 7-12) Business Office 530-674-5474
3105 Colusa Hwy. Yuba City, California 95993
Elementary Campus (Grades K-6) 530-674-3922
2620 Colusa Hwy. Yuba City, California 95993
https://www.fcs-k12.org

FCS, an independent, coeducational Christian school, founded in 1975, seeks to "provide a quality Christian education that reinforces the Christian training of the home and the church". Serving the Yuba/Sutter County area with two campuses on the west end of Yuba City, the elementary (K-6) campus is located on the Calvary Christian Center site and the secondary (7-12) campus and main business office is ¼ mile away on 10 acres (6.5 owned by FCS) next to the First United Methodist Church.
Faith Christian School has a continuing 40 year legacy of equipping children to be grounded in truth and faith, educating students to excel in further education and the workplace, and encouraging generations to have a love for others and lead a lifetime of service.

School Facts

Faculty/Staff/Administration
18 Full time Faculty
4 Part time Faculty
16 Classified Staff
2 Administrators

Enrollment: 300
18 : 1 Student Teacher Ratio grades K – 6 (plus instructional aides)
11 : 1 Student Teacher Ration grade 7 - 12

ACT/CEEB Number 053811

Accreditation:
Association of Christian Schools International (ACSI)
Western Association of Schools & Colleges (WASC)

Associate Membership:
Association of Christian Schools International (ACSI)
California Scholarship Federation (CSF)
California Junior Scholarship Federation (CJSF)
California Interscholastic Federation (CIF)
National Honor Society (NHS)


CURRICULUM AND GRADING SYSTEM
Faith forward. College ready.
FCHS offers College Prep and general education courses providing strong verbal, written and thinking skills for future educational opportunities and employability. Teaching students to have a "Christian World View" is paramount.

Graduation Requirements:
40 credits English
30 credits Social Science
30 credits Math
30 credits Science (one lab min)
20 credits P.E.
10 credits Foreign Language or Fine Arts
5 credits Health
55 credits Electives
220 TOTAL CREDITS
5 credits per semester in attendance for Bible are also required.

Grading System:
Superior 90 - 100%
Above Average 80 - 89%
Average 70 - 79%
Below Average 60 - 69%
Unsatisfactory below 60%

ADVANCED PLACEMENT / COLLEGE PREP AVAILABLE

NATIONAL STANDARDIZED SCORES
FCS students consistently score in the top 1/3 of the nation on the Terra Nova Achievement test.

MILITARY ACADEMY APPOINTMENTS
6 FCHS Alumni have received appointments
2 Air Force Academy (`83, `92)
1 Naval Academy ('83)
2 Military Academy ('91, '93)
1 Coast Guard Academy ('01)

COLLEGE ACCEPTANCE
90%-+ of FCHS graduates attend college
823 FCHS Graduates since 1982.
Nondiscriminatory Policy: Faith Christian School admits students of any race, color, and national or ethnic origin.