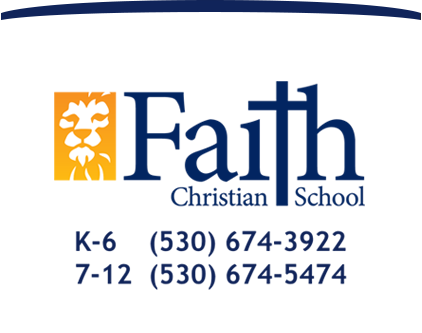 Raising Christian World Changers
Heritage
Faith Christian School (FCS) began in 1975 with 35 students in grades K-4. Parents from the First United Methodist Church of Yuba City desired to have a community Christian school that served students in both counties. This group of parents solicited the help of Clarence Summy, who had recently retired as the Superintendent of Yuba City Unified School District. He also served as the Chairman of the Trustees at the First United Methodist Church. God had been stirring in Mr. Summy's heart to educate students about God. This led to Mr. Summy becoming the first chairman of the board for Faith Christian School.
The First Christian Church of Marysville opened its doors to house the school for the first few years. The school grew adding a grade level each year. In 1978, junior high was added and Calvary Temple Church agreed to furnish classroom space for the expanding school.
1980s:
Calvary Temple built four new classrooms in 1980 to make room for the first high school classes.
The First United Methodist Church bought 20 acres of land West of Yuba City to relocate their church. They offered to lease 12 acres of land for $1 per year for 99 years. In 1981, FCS broke ground by pouring the foundation for the new high school facility. Funds to build the High School Campus were raised through a capital campaign from 1981 to 1983. Through the generous financial support of many individuals, the school building was completed in the fall of 1983. During this time Faith Christian had its first graduates with the FCHS class of '82.
The board voted to close the Marysville campus, moving all the elementary students to one site at Calvary Temple. The junior high students moved to the high school campus at this time. The late 1980's were a time of re-evaluation. Through growing pains and fluctuating enrollment the board decided to redefine its mission and purpose to "Reinforce the Christian training of the home and church". A re-direction to focus on discipleship and fine-tuning the admission policy to reflect our mission and purpose brought stability and long range planning for the future.
1990s:
FCS was in a position to begin a capital campaign to build a gymnasium complex on the high school site. A capital campaign was initiated in September of 1990 to raise $400,000 for the first phase of the gymnasium complex. Construction began in January of 1992 and the gym court was complete in January of 1993.
In 1994, a strategic planning task force made up of teachers, administrators and parents met to evaluate programs and to devise a three to five year plan. Areas were identified in strengths and weaknesses and specific plans were put into place to improve the school.
Accreditation was high on the agenda to accomplish in 1995. After a year and a half of completing a self-study, the accreditation team, representing WASC and ACSI, granted a six- year accreditation term. This is the longest term that is granted.
Another campaign began in September of 1995 with former San Francisco Giant, Dave Dravecky, as guest speaker. This campaign was to raise $600,000 for the completion of the gym lobby and locker rooms and to upgrade our computer technology with LAN and internet connections. By August of 1999, all projects were complete.
2000s:
FCS finished its second strategic planning task force with an updated three to five year plan in May 2000. We completed 25 years of ministry celebrating with a banquet in the fall of 2000. Gary Smalley was the keynote speaker with approximately 700 people in attendance.
We completed our second accreditation process in March 2001. Receiving another full six-year term was an exciting accomplishment.
In 2004, we purchased 6.5 acres of land directly to the west of our high school campus. This will provide for expansion of classrooms, facilities and parking as we anticipate future growth.
2010s:
2015 marked 40 years of ministry for Faith Christian School.
Faith Christian School partnered with GraceWorks Ministries in Lifting Off...Soaring Ahead, a Biblical, Christ -centered strategy and vision. This brought a renewed sense of excitement to FCS along with a permeating positive spirit and increased enrollment.