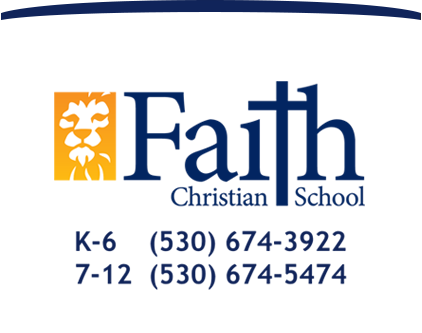 Raising Christian World Changers
About FCS
Faith Christian School (FCS) is an independent, non-denominational Christian school in Yuba City, California. Established in 1975, the school is housed on two campuses and serves 250-300 kindergarten through 12th grade students and their families
Our faculty and staff take a head, heart, and hands approach to mentoring students that is strong in academics, spiritual and emotional development, and service to others. Curriculum is Christ-centered and Bible-based. Faculty integrates Judeo-Christian values into all course material and activities including extra-curricular sports and arts. Our academic programs include advanced placement and dual-credit courses, university-level senior projects, individual study, and tutoring. Over ninety percent of FCS graduates attend college after high school. See our vision.
Faith Christian School is governed by an independent school board that is comprised of seven members from various local churches. The school is a member of the Association of Christian Schools International (ACSI) and the high school holds accreditation from ACSI and the Western Association of Schools and Colleges (WASC).
We invite you to see our campus in action on Welcome Wednesday, our informal weekly open house on both campuses from 9am - 2:30pm or schedule your personal free Educational Success Consultation.