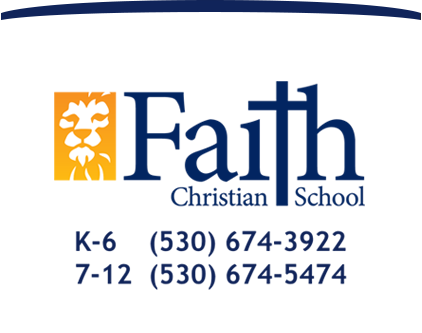 Raising Christian World Changers
Secondary
Sun

day

Mon

day

Tue

sday

Wed

nesday

Thu

rsday

Fri

day

Sat

urday
Welcome to Faith Christian Jr. High and High School
Our secondary campus serves students in grades 7-12.
Our mission is to provide a quality education that reinforces the Christian training of home and church by:
providing a Christ-centered, Bible-based education that inspires each student to know God through a personal relationship with Jesus Christ and to pursue excellence in moral character, academic achievement, physical & emotional development, and service to others.

Important factors for a great high school experience which are fulfilled at FCHS:
1. A place where spiritual growth is encouraged and enabled. A place where Christian adult models are available and where a Christian world view is fostered in every academic and social aspect of the school.
2. A place where students are encouraged to serve and share their faith through word and deed.
3. A place where the student will be prepared for college level academics or the world of work. A school that stresses communication and math skills, and has teachers willing to view each student as an individual. A school that is recognized by accreditation agencies, and has a great record for their students' college admissions and success.
4. A place where healthy and enjoyable social opportunities are interwoven into the program.
5. A place where extracurricular activities such as athletics, music, drama, and art are supported, and students are given the opportunity to grow toward their potential.