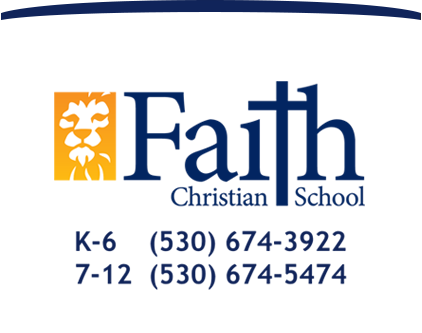 Raising Christian World Changers
Elementary
Welcome to Faith Christian Elementary
Our elementary campus houses kindergarten through sixth grade.
Our mission is to provide a quality education that reinforces the Christian training of home and church by:providing a Christ-centered, Bible-based education that inspires each student to know God through a personal relationship with Jesus Christ and to pursue excellence in moral character, academic achievement, physical & emotional development, and service to others.
Kindergarten
In Faith Christian School's kindergarten program, it is our pleasure to work with parents to "Train up a child in the way he should go: and when he is old, he will not depart from it." Proverbs 22:6. God's Word is a living tool to teach His ways in all academic, physical, social, and spiritual areas of learning. Bible lessons, prayer, and character building scriptures help children come to know and trust in God's love in a personal way.
Our half day kindergarten program is developmentally appropriate and designed to give children the foundational skills necessary for success in school. We encourage children to learn, participate, and excel in a fun and fast paced learning environment. Positive reinforcement and clear classroom procedures help the children learn to respect each other and the education process.
Abeka phonics is a wonderful building block phonics program that allows each student to move as quickly as their individual abilities allow. It also allows for repetition and reinforcement for students who benefit from this. The use of stations during our phonics lessons allows each child's developmental needs to be met. With a paid aide in the classroom, we have many opportunities to reinforce phonics, math, writing, and physical growth at one of our phonics stations. Parent volunteers oversee several art and creative play activities at one of these stations.
The Abeka math curriculum gives children the opportunity to develop mental math skills, while hands-on activities reinforce these math facts through the use of manipulatives, songs, and games.
We use a literacy based science and social studies program that allows the children to learn about and explore God's creation around them. Science experiments provide many memorable teaching moments.
Extended Christian Day Care is available on campus before class from 7:00 - 8:10 am and after class from 12:00 - 5:30 pm.

Elementary Education Support
New this year! Intervention Specialist - providing educational support for students struggling with a paticular skill or academic concept.
Mrs. Morrison will be working with teachers to determine which students need additonal support to be successful within the classroom. After assessing these needs, she will partner with the teacher and parents to set educational growth goals, then provide the specialized instruction necessary in a small group or individual setting during the afternoon school hours until the goals have been met.