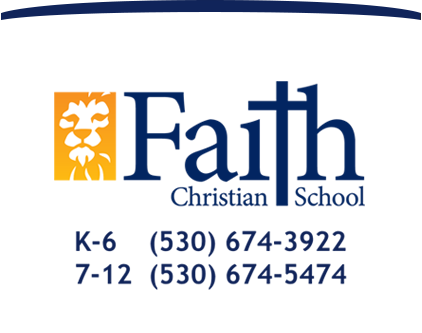 Raising Christian World Changers
Senior Project
The FCHS Senior Project is a requirement for graduation and consists of months of researching and writing an 8-12 page position paper and oral presentation on any topic of interest to the student, on which the student takes a strong position using logic and persuasive argument.
Required content includes:
Selecting a topic on which the student can support the traditional Judeo/Christian Worldview regarding the topic.
A "position" project requires an issue which does or can generate opposing viewpoints. Students must demonstrate awareness of both viewpoints in both written and oral presentations. It is recommended that you select an issue which is both of interest and concern to you and about which you possess strong feelings.
Addressing the issue's effect upon society in general as well as the local, regional, national, and global impact.
Biblical/spiritual implications of the topic, its standing in relation to Christian history and in terms of a "Judeo-Christian World-view"(including an overview of the global Christian community)
Addressing or suggesting potential solutions or recommendations and attempting to provide "the next steps" – organizations to join, laws to support or enact, organizations or individuals to contact, etc.)
A minimum of 3 references
Additional and appropriate support materials (visual aids, charts, graphs, illustrations, tables, etc.) are strongly recommended.
Students submit their finished written projects during the months of March or April, and in April or early May begin their oral presentations, which must include an open "question and answer" period. Students work with FCS Informational Technology Coordinator Michael Childers to create a professional power-point presentation.
Here is what FCHS alumni said about their senior project:
Josh: "I think it was a good experience to prepare you for college. It was harder than I thought it would be and going into depth on a subject is challenging. It's also much more than just a term paper; you have to truly understand the topic. I also feel that completing my Senior Project has prepared me to do well professionally…and that's something that I think should take place during your senior year; the senior year should be a process of getting ready to move on in life!"
Tiffany: "It was stressful…but now I feel so prepared! I feel like I've really accomplished something! From attending college classes with friends, I know that this is what many college assignments will be like, and now I can be confident about my ability to succeed in college. I also liked being able to choose a topic that I felt so strongly about, and to be able to share my feelings and beliefs with others."