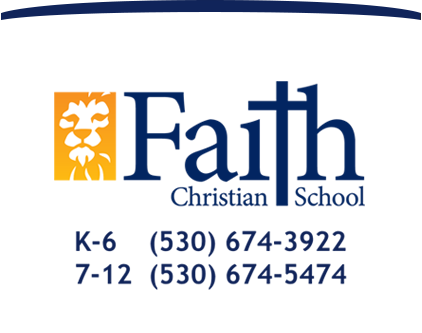 Raising Christian World Changers
Academic Advising
One of the important concerns parents have for the future of their children centers around the subject of college. Statistics prove that students graduating from private Christian schools are twice as likely to graduate college, (60% vs. 30% of students who attend public school). Faith Christian is here to help every step of the way so each student can be "Faith Forward - College Ready." We offer a college readiness advising program with individual attention that is unlike any local school!
An Academic Advisor meets with every student one-on-one beginning in eighth grade to discover their goals and plans for college after high school. We also offer individualized sessions with every student, college admissions assistance, essay writing aid, and direction regarding scholarship resources and financial aid. Students are able to sign up for sessions as needed after an initial focus meeting to determine student direction.
FCS hosts an annual College Readiness Night where we welcome a panel of university admissions counselors to share their expertise and insights on steps students and parents can take at various stages of their education to be optimally prepared for college. Also discussed is choosing a college/university, important admission criteria, and financial aid/scholarships. Parents and students sixth grade and above and encouraged to attend and ask questions from local admissions experts.
We are committed to helping our students be Faith Forward, College Ready