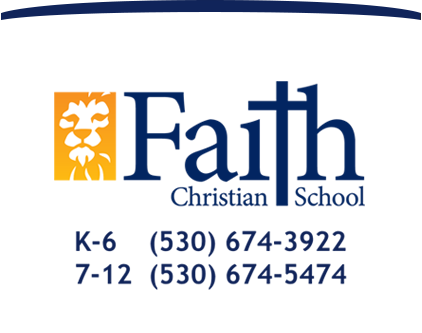 Raising Christian World Changers
Starting Kindergarten
Choosing the path your child will follow for their education is a big decision.
In Kindergarten a child is developing skills and beliefs that they will use the rest of their life.
Education has been described as a garden - and a child as the seed. The school and education are the soil - the nourishing environment for the seed to bud, grow and bloom. At Faith Christian, children are rooted in God's love, truth and faith. Caring teachers provide many nutrients for growth and development, and children blossom!
In Faith Christian School's kindergarten program, it is our pleasure to work with parents to "
Train up a child in the way he should go: and when he is old, he will not depart from it." Proverbs 22:6
God's Word is a living tool to teach His ways in all academic, physical, social, and spiritual areas of learning. Bible lessons, prayer, and character building scriptures help children come to know and trust in God's love in a personal way.
Our half day kindergarten program is developmentally appropriate and designed to give children the foundational skills necessary for success in school. We encourage children to learn, participate, and excel in a fun and fast paced learning environment. Positive reinforcement and clear classroom procedures help the children learn to respect each other and the education process.
Faith Christian School's Kindergarten program is a Christ-centered, creative learning environment. Your student will experience a year filled with Bible stories, prayer, scripture memory, creative hands-on learning, friends, singing, and FUN! We emphasize phonics and give the children the tools they need to unlock reading. We want every child to love learning! We also want every child to know Jesus Christ personally and to love and serve Him all their days.
Full-Time Day Care Available
Extended Christian Day Care is available on campus before class from 7:00 - 8:10 am and after class from 12:00 - 5:30 pm.
Find Out More
You are welcome to find out more about our kindergarten program by meeting with the teachers individually and by visiting our classroom during the phonics stations to see our classroom in action. Welcome Wednesday, our informal weekly open house is a great time to visit.
Kindergarten screening is available by appointment. We will provide the assessment and tools to make sure your child is ready for school.
Our Curriculum
Abeka phonics is a wonderful building block phonics program that allows each student to move as quickly as their individual abilities allow. It also allows for repetition and reinforcement for students who benefit from this. The use of stations during our phonics lessons allows each child's developmental needs to be met. With a paid aide in the classroom, we have many opportunities to reinforce phonics, math, writing, and physical growth at one of our phonics stations. Parent volunteers oversee several art and creative play activities at one of these stations.
The Abeaka math curriculum gives children the opportunity to develop mental math skills, while hands-on activities reinforce these math facts through the use of manipulatives, songs, and games.
We use a literacy based science and social studies program that allows the children to learn about and explore God's creation around them. Science experiments provide many memorable teaching moments.
Things to Look for in a Quality Kindergarten Program
A safe and positive atmosphere where each child is respected, accepted, and encouraged.

Individualized attention is provided for each child, allowing for enrichment and remediation.

Independent thinking and problem solving is encouraged and modeled, building responsibility and critical thinking skills

Biblical perspective is taught through Bible stories and character developing scripture memory.

Children's work is prominently displayed.

Parents are encouraged to participate in the child's education through volunteering in the classroom, as well as homework reinforcement activities.

Children learn writing skills and spelling through journaling and story writing opportunities.

Activities are varied through the morning, allowing for large and small group lessons, physical exercise, creative play, the use of computers, creative art activities, and creative language though acting out stories and lessons.
"FCS, in my opinion, has one of the best programs in town. The smaller class size opens the door to much more personalized and hands-on teaching. The teaching staff truly shows God's love for the kids in both their attentiveness and their patience. Their interactive approach to education isn't designed to just teach facts - it helps the children EXPERIENCE learning.

Their activities, special events, and parent involvement, partnered with the guiding light of God's Word, make Faith Christian School the absolute best place to begin a child's educational journey."

- Rob, FCS Parent

"Myself being a teacher, I have worked in a handful of schools in our area. Faith Christian is the only school I feel comfortable sending my children to. Last year, my kindergarten son loved his classmates, teachers and staff. He learned to read and gained a solid foundation in mathematics. He is very confident in his academic knowledge thanks to the quality teachers and student-focused curriculum. He really loved the hands-on activities and field trips!

The most important reason why we love Faith so much is their focus on Jesus. The values we teach him at home are being reinforced at school. He is surrounded by good influences and comes home retelling Bible stories to his younger brothers. Faith Christian School is the best choice!"

-Angela, FCS Parent

"Fcs kindergarten was a great experience for us. Thanks to the love, support, and prayers of the teachers and staff our daughter grew not only academically but in confidence and in her personal relationship with the Lord. Our daughter loved PE and learning to read. She is wanting to practice reading a lot. She loved making new friends and couldn't wait to go back to school!"

-Randi, FCS parent