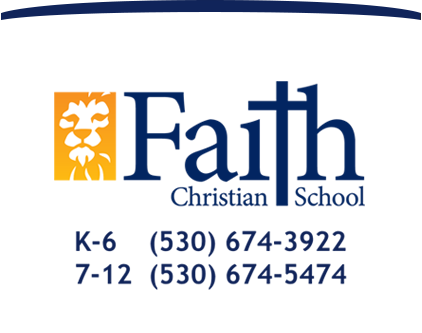 Raising Christian World Changers
Testimonials
What People Say
Your Faith Christian School experience tells our story. Here is what people have had to say...
"Our grandson was having difficulties in public school and our daughter found that he was being bullied by other boys. The bullying took a toll on him and it caused his grades to suffer. His parents sent him to Faith Christian and he began to thrive. The smaller school setting and the nurturing environment was such that we all saw a big change in our grandson almost immediately. The Christian emphasis has given him a good foundation for the future as he graduates and goes on to higher education. We would recommend Faith Christian School to all who want their child to have a good foundation in the Christian Faith and a sound education." - Kay Conner, Grandparent
"This school is like family. Once you get plugged in, you won't want to go anywhere else. ❤️. Your children not only receive a Christ centered education, but be challenged for academic success. Almost 100% of students move on to successful college careers. Faith Christian is the perfect combination of education, sports and faith practiced in daily life. I wouldn't want to send my children anywhere else." - Nicole Gates, FCS Parent
"I have 8 grandchildren here at Faith. I love that they memorize the Word, attend chapel every week and most of all that the teachers pray for our kids. Gods word accomplishes much!" - Sue Aberasturi, Grandparent
"Myself being a teacher, I have worked in a handful of schools in our area. Faith Christian is the only school I feel comfortable sending my children to. The most important reason why we love Faith so much is their focus on Jesus. The values we teach him at home are being reinforced at school. He is surrounded by good influences and comes home retelling Bible stories to his younger brothers. Faith Christian School is the best choice!" - Angela, Parent
"Fantastic school - they helped us develop our 4 daughters into responsible, Godly and successful young ladies that got into schools like UCB, UCD,UCLA and still attend church/bible study frequently!" - Sherry Ekdawy, Parent
"Love this school and all it stands for! Wouldn't send my kids anywhere else!" - Randi Haeberle, Parent
"The leadership of the school are people of integrity and faithfulness. They truly seek the Lord's answers in all areas relating to the school. They are active listeners and think through the decision making process. They are strong in their biblical belief system."
"Our hearts leap with joy when we think of the Christian values our grandchildren have received while attending Faith Christian School. God bless you and your staff as you work together in His name training the future of our country." - Al & Shirley Martin, Grandparents
"I love this place! I grew there as a student and now my children are growing there, I'm so blessed to be part of such a wonderful family!" - Leah (Gledhill) Harris, Alumni/Parent
"The confidence I have in the teachers and staff at Faith, give me peace and security for my kids education and growth."
"My kids have thrived at Faith Christian. Quality Christian instruction to enhance intellectual, physical, emotional, and spiritual development. Fine music and drama as well." - Pam Wickline, Parent
"Awesome school ..Awesome teachers... Exceptional students!!" - Sharon Frank, Grandparent
"The curriculum the school uses is very good and I appreciate how it ties in Biblical principles throughout the subjects. I want my daughter to have teachers and administrators that truly care for her and pray for her - those employed at FCS are truly dedicated to our child's educational and social excellence and spiritual well being." - Parent
"Christian Integrity, Educational Excellence" - Parent
"FCS is an environment where I can send my children to obtain a high quality education based on sound Christian principles." - Parent
"The teachers and staff are wonderful, quality of Christ centered education is unmatched, and every day I know I am sending my child to a positive and safe environment." - Parent
"All of my children graduated from FCS and I believe the education and spiritual guidance was excellent."- Alumni Parent
"We love that Christian values are being taught and modeled for our daughter by loving and caring staff members."
"High qualtiy Christ-centered education that well prepared my children for college and the workplace; and teachers that genuinely care about the students." -Parent/Staff
"We would rather have our child in a Christian school where our beliefs are supported than in a California public school where the curriculum may contradict our beliefs. Furthermore, of all the Christian schools in the area, we feel Faith offers the best opportunities for our child."
"Wonderful staff, caring teachers, super administration, academic and spiritual excellence."
"Faith Christian is a high-quality school with a strong emphasis on Christian values. I would recommend our school as the best Christian education around."
"Christ centered education that compliments Christian teaching of home and church. Faculty and staff that love the Lord and believe in prayer." - Parent
"Outstanding Biblically based education with excellent staff and faculty." - Parent
"Safe environment, teachers pray for my children, character and moral values are taught, other parents look out for my children." - Alumni Parent / Board Member
To hear What our Teachers Say about why they love to teach at Faith Christian, read their biography pages!
We would love to hear what you have to say. Please send us a message here!