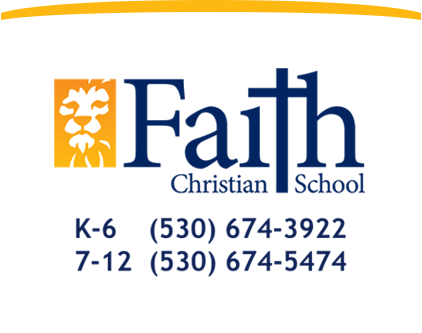 Raising Christian World Changers
Lunch and Snack Sales
The children at Faith Christian School bring their lunches and drinks to school. The following options are also available:
Lunch Sales
Lunch Tickets are $2.50 each or sold in a Strip of 5 for $12.50
Lunch sales are a fundraiser each year and families have the opportunity to help with the lunch deliveries. Funds raised go to help with needs on the elementary campus.
Weekly Menu

Please note: Lunches must be purchased before 8:25 am to allow students to be ready to start class by 8:30 am.
Lunch items will be delivered to each child's classroom by the volunteer helper.
Snack Sales
Snacks and Drinks are 75¢ each. Snack Cards may be purchased for a student have "on file" for $15.00 which will total 20 snacks or drinks. You may request any parameters you choose on the use of your child's snack card such as: "one snack a day" or "only at lunch time" etc. Siblings may share a snack card.
Snack Bar Hours: (located in the daycare room)
Before 8:30 am
11:40 - 12:15 during lunch break
After school
Snacks offered: beef jerkey, pretzels, chips, crackers, gogurts, pudding, string cheese, fruit cups, bottled water, juice box, cookies, popsicles