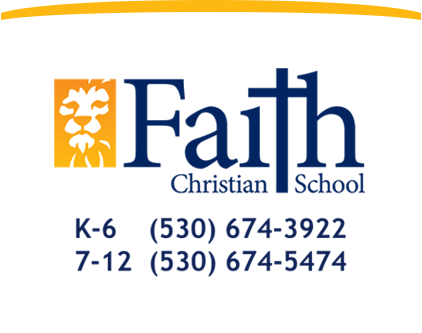 Raising Christian World Changers
Bill Hannold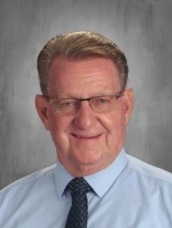 Bill Hannold
Superintendent
Phone: 530-674-3922
Bill Hannold, Superintendent, has been serving as Faith Christian School administrator for 40 years. He has a combined 44 years of teaching/administration experience in Christian school education. Bill holds a Bachelor of Arts degree from Azusa Pacific University and a Master of Science degree in School/Church Administration from Shasta Bible College.

Tell us a little about your family: I was born in Carlisle PA and grew up in Paramount in Southern California. My wife, Mary (SWA Flight attendant), and I have been married for 44 years. Our son, Will, went to Northwest Nazarene University in Idaho after attending FCS K-12. Our daughter, Crystal, also attended FCS K-12 and graduated from Point Loma Nazarene University. We are blessed that our children and their families have moved back to the area allowing us to have more time with our 6 grandchildren: Makalyn, Nolyn, Aedan, Colin, Kylie, and Zoe.

What is your favorite meal? Mexican food with lots of guacamole

What other interesting jobs have you had? Directing Indian Village summer camp as "Big Chief Sitting Bill"

If you could go on vacation anywhere in the world, where would you go? Hawaii

What do you like to do in your spare time? Coach and play softball, hang out with family and friends (especially grandkids)

How do you serve in other areas of ministry outside of FCS? I attend Hope Point church. I have been involved in the choir and facilitated parenting and other spiritual growth classes/seminars.

What is your favorite Bible verse? II Cor 3:5 and 4:7 " Not that we are competent in ourselves to claim anything for ourselves, but our competence comes from God" -- "But we have this treasure in jars of clay to show that this all-surpassing power is from God and not from us."
The best part about following Jesus is...experiencing His mercy and grace daily.
What do you love most about your area of service at Faith Christian? The privilege of assisting parents in the Christian training of their children
What is a favorite memory of FCS? Hearing from alumni about how FCS impacted their lives

What does Faith Christian School mean to you? Besides my family, it has become a major focus of my life

How have you been ministered to at Faith Christian? The fellowship with staff, students, parents and extended family has enriched my life