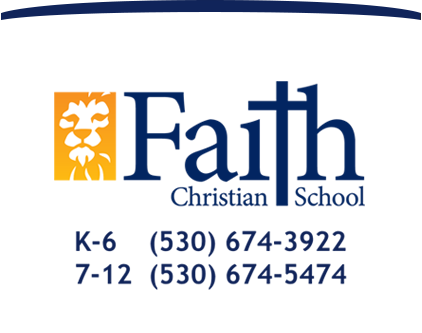 Raising Christian World Changers
Calendar
Sun

day

Mon

day

Tue

sday

Wed

nesday

Thu

rsday

Fri

day

Sat

urday

Elem Spirit Day

December 3, 2019

|

08:30 AM - 03:00 PM -

Wear our school colors (blue and gold) to show your Lion pride!

FCS Christmas Celebration - Music, Art, Poetry

December 9, 2019

|

06:30 PM - 08:00 PM -

Location: FCHS Gym Come celebrate with your FCS family to the sounds and sights of Christmas from both our elementary and secondary campuses. There will be holiday treats to purchase and s...

Elem Red, White, and Blue Day

December 10, 2019

|

08:30 AM - 03:00 PM -

Which class will be the most patriotic this month?! Wear our American flag colors today!

FCHS Christmas Banquet

December 12, 2019

|

08:00 PM - 11:00 PM -

Complete the permission slip on the FCS App or by clicking here. DESTINATION: Benihana's, 5489 E. Sunrise Blvd, Citrus Heights TIME OF DEPARTURE: Dinner Reservations are at 8:00 p.m. ...

Mandarin Sales Orders Due

December 13, 2019

|

08:00 AM - 03:00 PM -

Please turn in all mandarin fundraiser orders with collected payments. Order pick-up will be on each campus Tuesday, Dec. 17th.
Click to view or download pdf