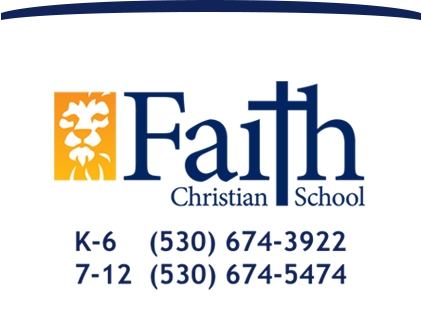 Raising Christian World Changers
High School
Sun

day

Mon

day

Tue

sday

Wed

nesday

Thu

rsday

Fri

day

Sat

urday

Parking Spot Fundraiser Payment Deadline

September 5, 2018

|

08:00 AM - 03:00 PM -

Pay to FCHS Yearbook in the secondary office. $25 secures your parking spot - assigned by a lottery pick. Design ideas are due Tuesday, Sep. 11.

FCHS Field and Track Work Day

September 15, 2018

|

08:00 AM - 12:00 PM -

Band Together for Christ is almost here (9/22) and we want to have our FCHS fields ready to host our community! Can you help us TUNE up this area? Please bring these tools if possible: Rakes, Shove...

Secondary Picture Day

September 20, 2018

|

08:30 AM - 10:00 AM -

All students will be photographed for the yearbook and ID cards. Portrait purchase is optional.

Band Together for Christ @ FCHS Soccer Field

September 22, 2018

|

05:00 PM - 10:00 PM -

Location: FCHS Soccer Field. Yuba/Sutter's largest FREE Christian Music Festival featuring 3 local bands and one national headliner band, kids fun zone, games, food available and prize dr...