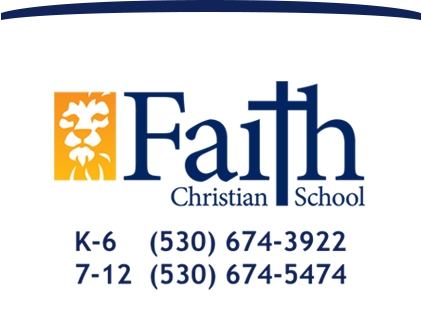 Faith forward. College ready.
Junior High
Welcome to Faith Christian Junior High School
Our junior high school includes seventh and eighth grades
Sun

day

Mon

day

Tue

sday

Wed

nesday

Thu

rsday

Fri

day

Sat

urday

Last Day - Minimum

June 1, 2017

|

08:00 AM - 12:00 PM -

It's the last day of school!!! Please join us for the elementary year end program and/or graduations.

Summer Drama Auditions

June 1, 2017

|

03:30 PM - 05:00 PM -

Come join the cast of Madagascar, A Musical Adventure! Ages 7-18 Location: Room D, Education Wing of YC First United Methodist Church. This is an easy and friendly initial au...

8th Grade Graduation

June 3, 2017

|

11:00 AM - 12:00 PM -

Location: First United Methodist Church Yuba City (next to secondary campus). Reception following in the fellowship hall.

Madagascar Ticket Sales Begin

June 21, 2017

|

11:00 AM - 01:00 PM -

Location: FCS Players Theater in the First United Methodist Church of Yuba City Fellowship Hall. Tickets will be sold on class days from 11am - 1pm and also at the door.

Fireworks @ FCHS!

June 30, 2017

|

12:00 PM - 09:00 PM -

In front of our secondary campus: Shop FCS for your TNT and have a BLAST supporting Faith Christian Athletics! Please call the office if you can volunteer to work a shift! 530-674-...